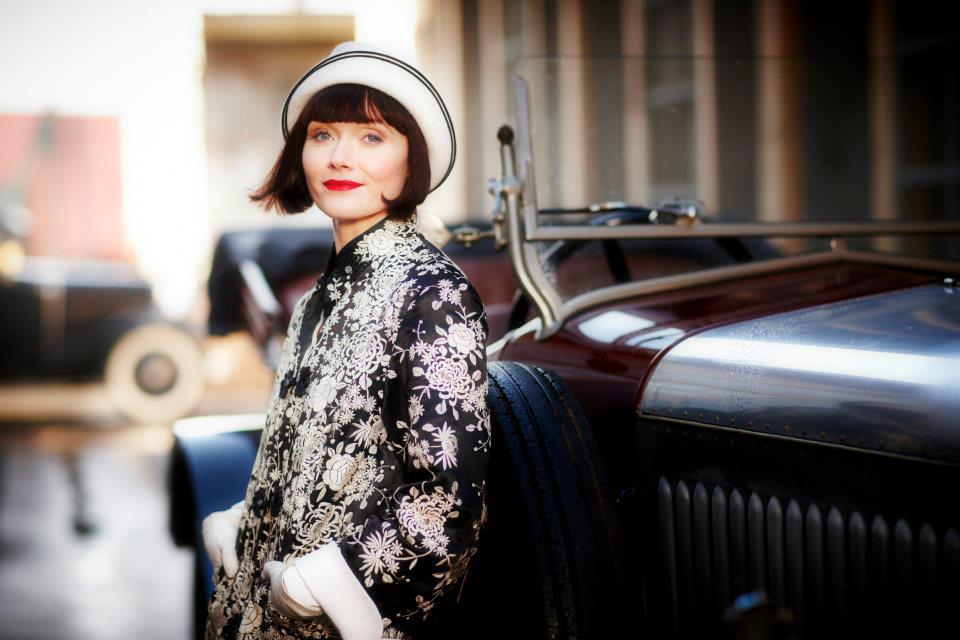 The twelfth and final outfit of "Death at Victoria Dock" (Season 1, Episode 4) features Phryne's beautiful black and white Chinoise surcoat, along with her button up V-neck blouse and white trousers, accessorized with gloves and her white felt hat. This exact outfit can be seen in the pilot episode, when Phryne visits Alice in the hospital.

The V-neck has a partial collar and is a classic piece, with appearances in episode 2 – "Murder on the Ballarat Train", and in her first ensemble of this episode.

Her white trousers are also a classic example of an oft-repeated staple of Miss Fisher's wardrobe, showing up three times in episode one – "Cocaine Blues" (x, x, x), twice in episode two – "Murder on the Ballarat Train" (x, x), once in episode three – "The Green Mill Murder" (x), and including this appearance, twice in episode four – "Death at Victoria Dock" (x).

The showstopper of this outfit is clearly her Chinoise surcoat, embroidered with white flowers on black fabric and fastened with black Chinese frog closures. Brought in from costume designer Marion Boyce's private collection, the costume team added wide white cuffs and a white belt to the back. This is a wonderful example of 1920′s Chinoiserie, where Western fashion was heavily influenced by the style and trends of China. 

Designer Marion Boyce gave an interview for the 2014 MFMM Costume Exhibition Catalogue about how this specific coat was from her own personal closet:

'This coat I've had for many, many years. I found it in a second hand store years ago and it's always been my coat if I'm really late coming home from work and I have a particular event. This is my 'go to' coat which then became Phryne's.  Chinoiserie in the 1920s was quite enormous and very much part of the 20s, and really after the Chinese closed their trading borders that was the last time, so I felt it was a really important part of the history.'

The coat has appeared before in "Cocaine Blues" (1×01) and shows up again in "Queen of the Flowers" (1×09).

Her white felt hat with black piping was custom-made to back the Chinoise coat, and has shown up four times in the season so far, twice in "Cocaine Blues" (1×01), earlier in this episode, and here.

Season 1, Episode 4 – "Death at Victoria Dock"

Screencaps from here, hat photo from the official Pinterest, production photos from the official Facebook (x, x, x) and other sources (x, x, x, x, x). Interview quote from @hysydney's post.