Della, Ben and Hattie, Venice, California, 1928
members of the Venice Beach Girls Dare Club, a group of bathing beauties who do a new stunt every Sunday, playing tightrope basketball, Venice, California, 1929
Janet Gaynor jumps for joy near Venice Beachphotos by Ray Jones
if I had a time machine, I might have to go to this Venice Beach party first!
Alice White, the Hollywood film star, rides on the dodgems at Venice, near Hollywood, with Arthur Stone, Donald Reed and Lucien Prival, 1930
maudelynn: Two California Beauties take Mac the Robot for a swim on Venice Beach c.1935  via cyberneticzoo.com
If This is Spring, Come on Summer – Harbingers of spring, now just two days away, swarmed over the Southland beaches yesterday in the form of adorning bathing beauties. Here […]
zombienormal: Girl holding gila monsters, Venice Beach, California, probably 1930's.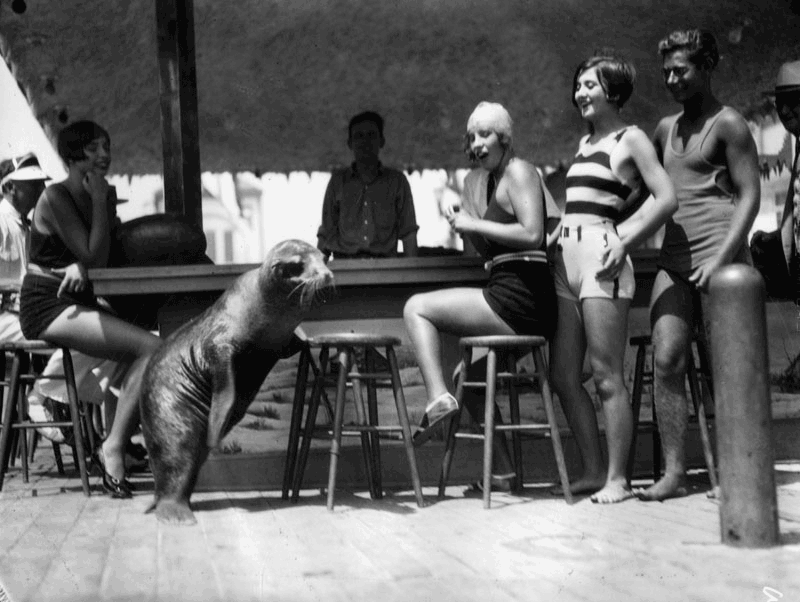 Best of What About Bobbed? – Year 1 October 2011… whataboutbobbed: a seal is hoisting itself up on a barstool at an outdoor counter on the Venice beach pier to […]
Keystone Girls Venice Parade, June 10th, 1917  Keystone Beauties Victors in Great Bathing Parade at Venice – Movie Capital Admits Keystone Girls Supreme If pride be sinful, then out guilt is […]